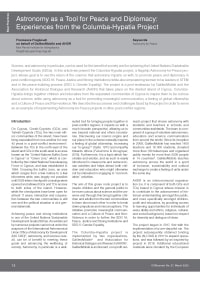 Download this article
- PDF (1375 KB)




Astronomy as a Tool for Peace and Diplomacy: Experiences from the Columba-Hypatia Project (page 14)
Fragkoudi, F.
Summary
Science, and astronomy in particular, can be used for the benefit of society and for achieving the United Nations Sustainable Development Goals (SDGs). In this article we present the Columba-Hypatia project, a flagship Astronomy-for-Peace project, whose goal is to use the vision of the cosmos that astronomy imparts us with, to promote peace and diplomacy in post-conflict regions (SDG 16: Peace Justice and Strong Institutions) while also empowering women to be leaders in STEM and in the peace-building process (SDG 5: Gender Equality). The project is a joint endeavour by GalileoMobile and the Association for Historical Dialogue and Research (AHDR) that takes place on the divided island of Cyprus. ColumbaHypatia brings together children and educators from the separated communities of Cyprus to inspire them to be curious about science, while using astronomy as a tool for promoting meaningful communication, a feeling of global citizenship and a Culture of Peace and Non-violence. We describe the successes and challenges faced by the project in order to serve as an example of implementing Astronomy-for-Peace projects in other post-conflict regions.
An acknowledgement was added to this piece since the print publishing.