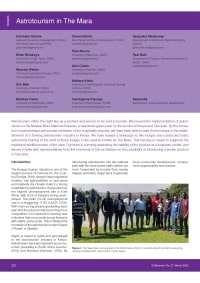 Download this article
- PDF (780 KB)




Astrotourism in The Mara (page 20)
Kulvinder, D.; Bichang'a, B.; Wafula, M.; Meli, E.; Osoro, B.; Ndiritu, S.; Akumu, P.; Orieko, A.; Mutisya, K.; Kiyanjui, C.; Manikumar, S.; and Baki, P.
Summary
Astrotourism offers the night sky as a product and service to be sold to tourists. We present the implementation of astrotourism in the Maasai Mara National Reserve, a renowned game park on the border of Kenya and Tanzania. By the formation of partnerships with private members of the hospitality industry, we have been able to take the first steps in the establishment of a thriving astrotourism industry in Kenya. We have leased a telescope to two lodges and conducted basic astronomy training to the staff of those lodges in the reserve known as The Mara. This training is meant to augment the traditional wildlife tourism of the area. Our team is currently assessing the viability of the product as a business model, and we are in talks with representatives from the University of Dar es Salaam on the possibility of introducing a similar product in Tanzania.