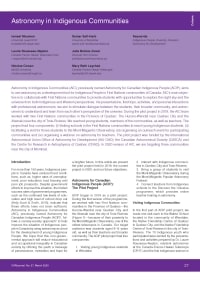 Download this article
- PDF (1059 KB)




Astronomy in Indigenous Communities (page 27)
Moumen, I.; Rousseau-Nepton, L.; Cowan, N.; Safi-Harb, S.; Bolduc-Duval, J.; and Laychak, M. B.
Summary
Astronomy in Indigenous Communities (AIC), previously named Astronomy for Canadian Indigenous People (ACIP), aims to use astronomy as a development tool for Indigenous People in First Nations communities of Canada. AIC's main objective is to collaborate with First Nations communities to provide students with opportunities to explore the night sky and the universe from both Indigenous and Western perspectives. Via presentations, field trips, activities, and personal interactions with professional astronomers, we aim to stimulate dialogue between the students, their broader community, and astronomers to understand and learn from each other's perspective of the universe. During the pilot project in 2019, the AIC team worked with two First Nations communities in the Province of Quebec: The Hurons-Wendat near Quebec City and the Abenaki near the city of Trois-Rivieres. We reached young students, members of the communities, as well as teachers. The project had four components: (i) Visiting schools in the First Nations communities to reach young Indigenous students, (ii) facilitating a visit for those students to the Mont-Megantic Observatory, (iii) organising an outreach event for participating communities and (iv) organising a webinar on astronomy for teachers. The pilot project was funded by the International Astronomical Union Office of Astronomy for Development (IAU OAD), the Canadian Astronomical Society (CASCA) and the Centre for Research in Astrophysics of Quebec (CRAQ). In 2020 version of AIC, we are targeting three communities near the city of Montreal.