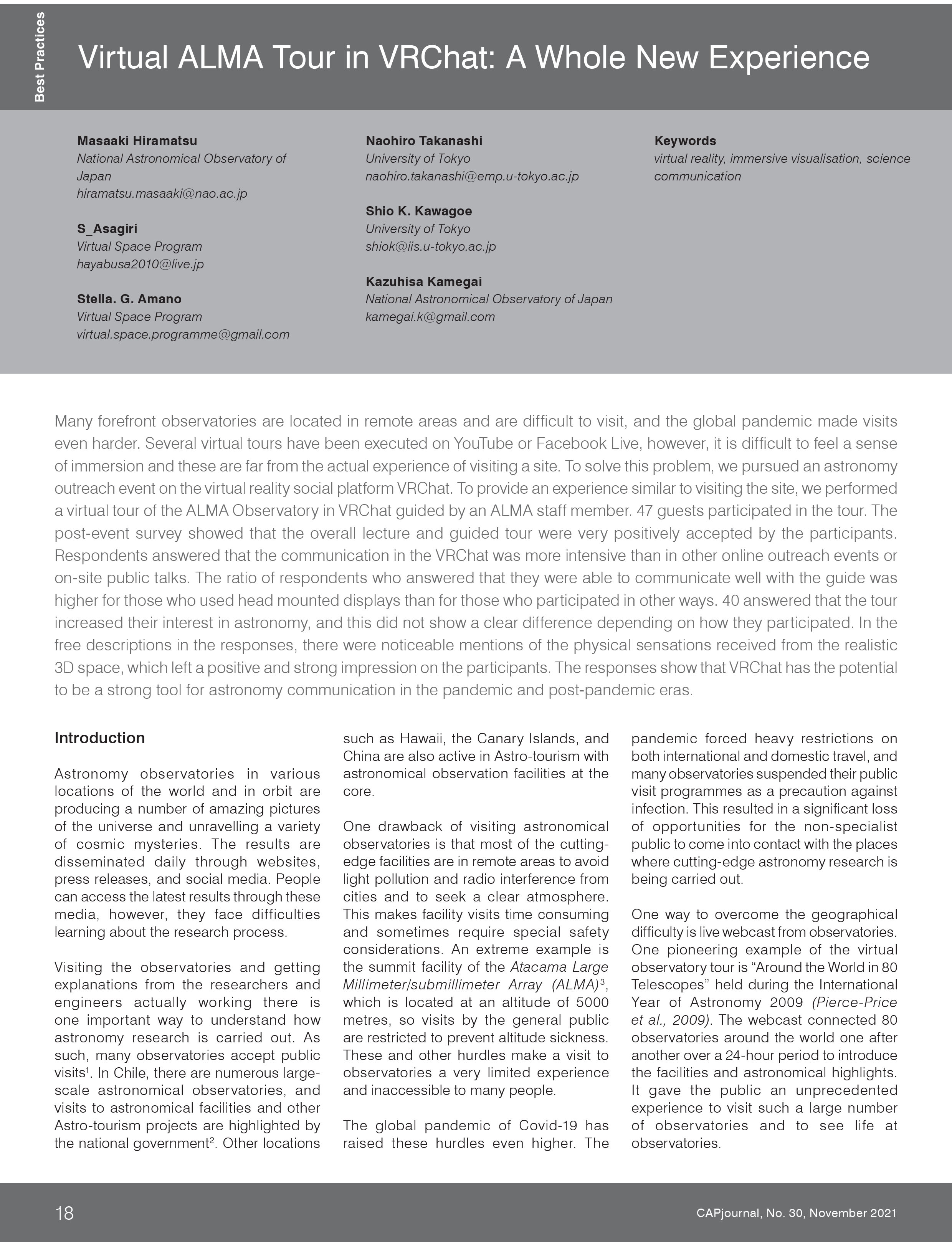 Download this article
- PDF (913 KB)




Virtual ALMA Tour in VRChat: A Whole New Experience (page 18)
Hiramatsu, M.; Takanashi, N.; Asagiri, S.; Kawagoe, S.K.; Amano, S.G.; Kamegai, K.
Summary
Many forefront observatories are located in remote areas and are difficult to visit, and the global pandemic made visits even harder. Several virtual tours have been executed on YouTube or Facebook Live, however, it is difficult to feel a sense of immersion and these are far from the actual experience of visiting a site. To solve this problem, we pursued an astronomy outreach event on the virtual reality social platform VRChat. To provide an experience similar to visiting the site, we performed a virtual tour of the ALMA Observatory in VRChat guided by an ALMA staff member. 47 guests participated in the tour. The post-event survey showed that the overall lecture and guided tour were very positively accepted by the participants. Respondents answered that the communication in the VRChat was more intensive than in other online outreach events or on-site public talks. The ratio of respondents who answered that they were able to communicate well with the guide was higher for those who used head mounted displays than for those who participated in other ways. 40 answered that the tour increased their interest in astronomy, and this did not show a clear difference depending on how they participated. In the free descriptions in the responses, there were noticeable mentions of the physical sensations received from the realistic 3D space, which left a positive and strong impression on the participants. The responses show that VRChat has the potential to be a strong tool for astronomy communication in the pandemic and post-pandemic eras.